So it's not often that I write something negative on my page but my recent trip made me sad. When visiting Dubrovnik over the Christmas holidays, my friend and I popped into the city aquarium. It was small near the edge of the city and had a selection of different fish species. The tanks were well maintained and I could not see any sign of disease or any issues so I enjoyed giving facts about the different species to my friend. Then we entered the second room and found this…
In the second room there was a tank sat below the water completely open and exposed which took about a dozen steps to walk around the circumference. The water was shallow and murky with a couple of rocks scattered along the floor. A sea turtle was kept in this exhibit. It did not move the whole time we were there. Just sat staring at the wall. There was no indication of any enrichment or stereotype behaviour. But the tank was filthy! Then I found this sign…
I had a look for the law online on the Croatian government website and I couldn't find the law. But according to this, they have given the Sea Turtle the MINIMUM tank space as possible. To further the state of the tank there was a sign saying it is forbidden to throw coins into the water. There were few visitors and at least two staff on, so why was there coins in the tank?
There were at least 20 coins in the tank that you could just see through the murky water. There was no sign of a filter or anything to clean the water either. Some of these coins were even rusted which means they were releasing oxidised elements into the water.
In comparison, I easily accessed the regulations for maintaining and displaying turtles I found this link https://www.fws.gov/northflorida/seaturtles/Captive_Forms/20130213_revised%20_standard_permit_conditions_for_captive_sea_turtles.pdf
which has loads of specifications for the turtle tank and maintenance many of which are in breach at Dubrovnik aquarium.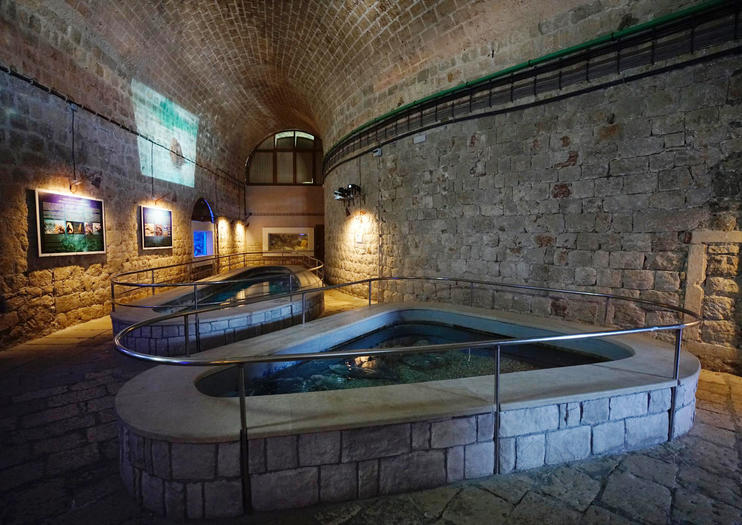 I did a little more research and trip adviser revealed loads of shaken and disgusted reviews of there were dead fish in the tanks left there. Sad moving and dirty animals with no staff present. People continue to visit however as the entry price is only 60 Kuna (£4.50). I am aware that many people will see the sign and enter without looking up reviews like we did on a rainy day but the best way to make a change is to raise awareness.
Animal cruelty. How is this possible? Please do not support this terrible aquarium. There is more fish on the TV screens than in the cramped tanks. I pray it is shut down.
Date of experience:
 August 2018
Please don't go here ! The fish are kept in very poor conditions, as for the turtle, words fail me ! My poor 6 year old was very worried for the turtle and for some of the other fish and we came out of there…More
Date of experience:
 July 2018
This aquarium is a joke. We saw more marine life as we walking around the marina than we saw at the aquarium. All the tanks were tiny. This place should be shut down
Appalling tiny pool for an adult loggerhead turtle. As well as many other species kept in over crowded, small or inappropriate enclosures. Do not support this badly managed aquarium.
Date of experience:
 June 2018
It was one of the worst experiences of my life. The aquarium staff is extremely aggressive with visitors and has no skills to deal with the public whatsoever. Moreover, most fishes and the poor turtle are not treated properly, their conditions are terrible. If I were you, I would not waste my time visiting this place. Please see the other parts of the Old Town and the beaches, you will be much happier!
Show less
Date of experience:
 June 2018
I was so shocked and sad to see the depressed turtle in such a small pool with a few rocks in. I'm so disappointed I hadn't read reviews beforehand as we just stumbled upon it. I wish I hadn't paid to get in and contributed to this.
The aquarium is in a nice setting and they could improve conditions for the fish and let the turtle go somewhere better and it could be a lovely little aquarium.
Show less
Date of experience:
 May 2018
Trip adviser (Jan 2019)
I can not find the official aquarium website but there is a link to the university of Dubrovnik. I assume they are involved with the research and maintenance of the aquarium. I cannot translate much of the page but they look well educated. I feel it is a disgrace if they would stand by and allow an aquarium to be in this state.
Please avoid the Dubrovnik aquarium and share the story of this Sea Turtle so it might get some better living conditions.