Live vs Streaming vs Film
"Can this show ever stop thrilling me?"
Covid-19 has brought the West End and Broadway to a halt. But nothing can stop the joy of the theatre even if we can't be there. This page will continue to push on through other means such as joining in with online chats, singing lessons and impressions from soundtracks. I know this breaks my number one rule of not listening to a sound track before seeing a show but some are being shown online so I can finally see them. But that is for another post.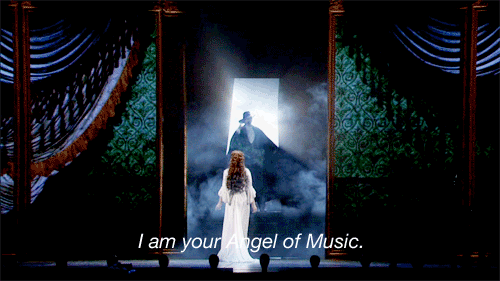 Today Phantom has once more has stolen my heart for the 2nd time just from my own room. Andrew Lloyd Webber has been streaming his shows live which gives me a list to see. But this post is about Phantom. More importantly, I got to see Sierra Boggess and Ramin Karimloo which was filmed on the twenty-fifth anniversary special at the Royal Albert hall. I have raved about Ramin for ages now so this is a dream come true. The stream zoomed on everyone's expressions and channelled all the voices into my headphones.
Just a side note. I got yelled at watching this because I know the whole show by heart and was listening full blast. So, I put headphones in and sang along. Didn't realise how loud and I missed the rest of the yelling so I think I may have lost phantom one potential fan! Wow I can actually belt.
How can this be such a thrill though? Phantom is on DVD which I have and love with Gerard Butler. There is nothing that will beat the thrill of going to see this show live but seeing it in a cinematic view gives me the spine tingling as well. Not only that getting to experience Sierra and Ramins portrayals of Christine and the Phantom. First thing though I still have a Raoul complex with Raoul. The actor who played Raoul in this production seemed colder than any I have experienced and though he was heard through "wandering child" I just wasn't wowed. Yes, I did give it ago but he was too harsh for me. However, Nadim was in this performance as one of the policemen. If you look carefully you can see him in the middle of the guard. Must have been young!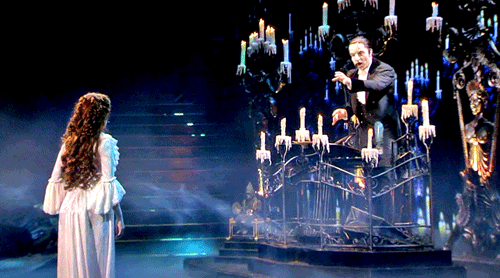 The little details of the show the camera picked up and which were altered made all the difference to the performance. The chandelier did not crash and fall but the pyrotechnics and drama from it being situated in the albert hall like it would have done in the opera popular in Paris was awesome. During "Poor Fool" the phantom sneaked up on mousier Bouquet and strangled him in front of the audience making the scene even more evil. In masquerade there was a larger cast number and no manikins. The manikins make the illusion if there is an actor there or not but I've never been a fan of them. The fuller cast made the scene so much more real and the phantoms entrance had more of an impact.
Sierra Boggess was before my phantom time but I have seen her perform at the thirtieth anniversary. (Note to self;9th October 2021 is the 35th anniversary.) I loved Sierra as Christine, she has such a powerful voice and dramatic stage presence that makes the trauma of the Phantom so real. The emotional roller coast she takes us on with her voice and her acting is second to none. I love having the cameras to pick up the detail.
My favourite scene is "wandering child" (as always) not only does her voice convey her pain, but you can see the hope in her eye that the Phantom is still the angel sent to her by her father. The fear melts from her voice and she is transfixed until Raoul takes her out of her trance. Not to mention at the end of the number has the most terrifying fire coming out of the stage. I could feel the heat through the screen.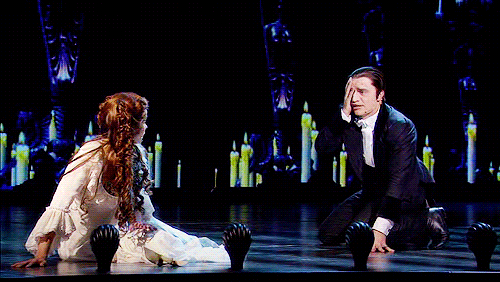 Now for the Phantom, I know Ben will always be my Phantom but I had such high hopes for Ramin and my god. He may be my new favourite. If you read our Anastasia post then you will know of the POWER this man has in voice. Not to mention in his acting. His Phantom is so intense. Ramin is a strong man and it is reflected in his Phantom. His word must be followed. The anger and the drama in his voice. Once you hear him warm you, you know all must be obeyed or else an evil will be fall you.
The heart break I feel earlier was not felt until the final scene. Ramin portrays the Phantom as evil and messed up for that is all he has known. The darkness in his heart reflects that of his soul and lair. But Christine's to finally stands up to him. His emotion comes through as he is at his wits end. The madness in his eyes is truly revealed when Raoul enters his lair and he chokes Christine. This was the darkest I've ever seen the lair played. But when Christine fights back Ramins face says he knew he has gone too far.
The penultimate moment when Ramin repeats "blindly" and growls at Christine to make her choice. You can see him breaking and fighting the dark in him which vanishes when she embraces him in her touch. He is so moved and shocked it just wrenches at my heart. The moment he lets her and Raoul go he is still maddened by his pain but lets them go. He screams this "Angel in Hell" as they run for their lives and he breaks down. The pain of a different phantom I have ever seen before.
One detail I never noticed was the Phantom sings to the monkey and covers it eyes so the world will never see him evoking his own pain. Then he turns to truly heart-breaking sight of Christine returning but not to be with him but to say good bye to him. For one second the monster is gone and they saw what they could have been. That moment she looked back and he nodded as if to say its ok to. In this rendition only Christine sings share with me and then Raoul appears to help her leave as the Phantom is in the background sobbing over her vail. He picks himself and moves on.  This moment wasn't rushed. It gave him as second to look back before he disappeared into the old trick behind the chair. What an ending.
The end of the show had a special appearance from the original Christine who I had never hear about. The original Phantom returned with some old faces which shamefully I only recognise John Owen-Jones who can be seen in our Les Mis stage show post. I love the smoulders coming off all the Phantoms as Christine hits those iconic high notes. I remember seeing this at the end of the 30th anniversary and some of the song was sung in French by Sierra as well. The show was finished by the Phantoms singing music of the night.
Even at home this show can do wonders. I wonder if it will ever stop surprising and thrilling me. I think we have to agree that this is a hard no. And even in these weird times. There is something that will be with us no matter what and that the music. And even now in these dark times, as the Phantom say and one day we can say; "it's over now the music of the night!". Hopefully that will be soon.