Turning the iconic film to an unforgettable musical
Legally Blonde toured the musical back in 2016/17. This might have been the first girl power musical in a while. I saw this musical back when but I never got round to writing about it and the musical soundtrack is online to around to help me remember. The tour which I saw featured Lucie Jones who also played Jenna in Waitress the musical.
(Quick update on waitress: due to covid it will probably not be returning to the west end but it will be on tour next year. We will be attending and experience our first musical in Aberdeen.)
The musical brought a very quirky version of the film, Elle still had her funny side but was even more ditsy and herself. The musical has all the funny parts of the film and even creates some new ones. They made a deeper connection of Elle and Emmet. However, the character of Vivian was more pushed into the background. The bond of friendship they had in the film gave Vivian and Elle. Vivian is more of a sulky villain in the background.
The show starts off with "Omigod you guys" with the sorority girls which is very funny explaining the start of the story and setting up some of the gags for the start of the show. The break up scene with Warner who is even more of an arse hole in the show than in the film. "Serious" has the set up for them breaking up which is so priceless I cried with laughter throughout the show.
Paulette was played precisely as goofy as she was in the film. The poor guy who had to be the delivery guy had absolutely no hope in hell. The whole set up is kind of cheesy but the comedic effect is on point. Who ever said that checking out a guy is badly needs to see the way that the UPS guy walks over the stage? I think the bend and snap was my favourite song. It really built her up and get her confidence going with a lot more comedy. Until she sees the UPS guy and then she loses It and knocks him out. I love Paulette.
Emmet and Elle had a much stronger story throughout the show. She is such a badass throughout the show but Emmet really makes her think more deeply and this is shown through the performance of "Chip on your shoulder".  He gets her to take a chance on the opportunity and get over her crush on Warner and use the opportunity to make a difference and she gets to the top of the class. Elle returns the favour in "Take it like a man" where Elle takes him shopping to sort out his look. This was where they started to fall in love and gave more of a deeper story.
A scene I was not expecting to be transformed. "There! Right There!" was the number where they tried to work out whether the pool boy was gay or not. It was actually priceless until it showed the whole court house trying to decide. They compared him to European. Who knew that Scottish was exotic as according to the show? Until Emmet cracks him by getting him to break. This part was a little stereotypical but it was hilarious. They made light of it. Turns out he was both gay and European.
Callahan is such an arse hole in this show. When he hits on Elle it really brings out the nasty side and highlights a major problem which is still present in todays workforce. Men helping out female workers and wanting something in return. He fires her for not reciprocating and she doesn't quit. But Warner was the one to come after her. She takes off and runs. Emmet tries to convince her to stop. You know Emmet is totally under estimated in the film but he is really given his credit in the show. He knows how to treat a woman. Yet it was Vivian who brought her back.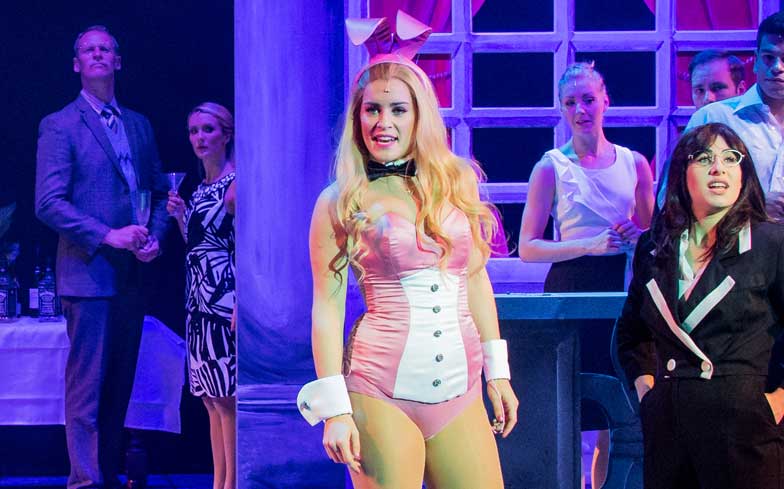 The remix brings back her funk. This number is performed completely by woman. Elle gets a quick change to get into her signature pink colour. She can be herself and where whatever the hell she wants. Cause no matter what you were no means no. It's a total power move as she walks in and fire Callahan and takes over the case herself with the help of Emmet.
They demonstrate that miss Windome was in the shower in a more physical method by showing what happens when a perm gets wet. This reveals the that the daughter shot him and not Brooke. The whole scene is a little over dramatic. But and it showed that Elle can do anything she sets her mind to. She has a revelation and shows Warner that she can do anything and it was thanks to him breaking her heart. She was going to find her way without anyone holding her hand. Emmet and Elle get engaged at her graduation ceremony. I kind of wish they had waited a little time. So that she could have a career as an independent woman but what another guy to support you than Emmet. We all need a guy like him and balls like Elle to reach for the sky and not stop there!
Get this show back on stage!!!!!